Manufactured in the United States and completely rust-proof, these All-Polymer plastic shopping carts will stay in service longer than any other cart. With an industry-leading 3 year warranty, these carts come equipped with useful features like cup holders and bag hooks. The all-polymer design also means carts that don't pull to one side, happy customers, and a store without the clatter of metal shopping carts.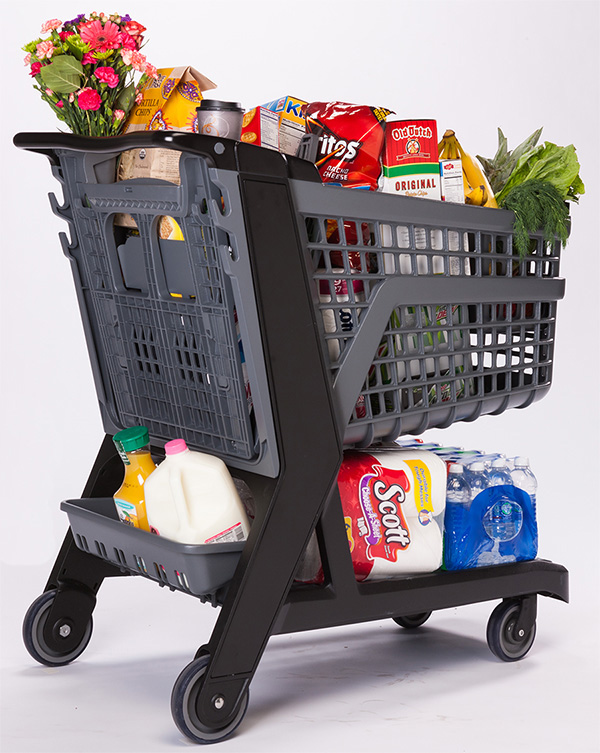 The smart device holder allows your customers the convenience to search recipes, check off items, or download coupons hands-free.
Customers will appreciate the four bag hooks on this cart, making it easy to hang reusable shopping bags, diaper bags, or pretty much anything else from the cart while they shop.
An innovative, retractable seatbealt that secures a customer's child.
Up to 1200 pounds of capacity, a leader in the industry.
This full size cart has everything your customers need for a great shopping experience. Additionally, this cart has all of the features of our convenience cart, listed below, plus a child seat, with a foolproof seat belt, that sits lower for increased safety.
​You'll find that this cart, which can hold over a half ton, will stay in service longer than any other cart available.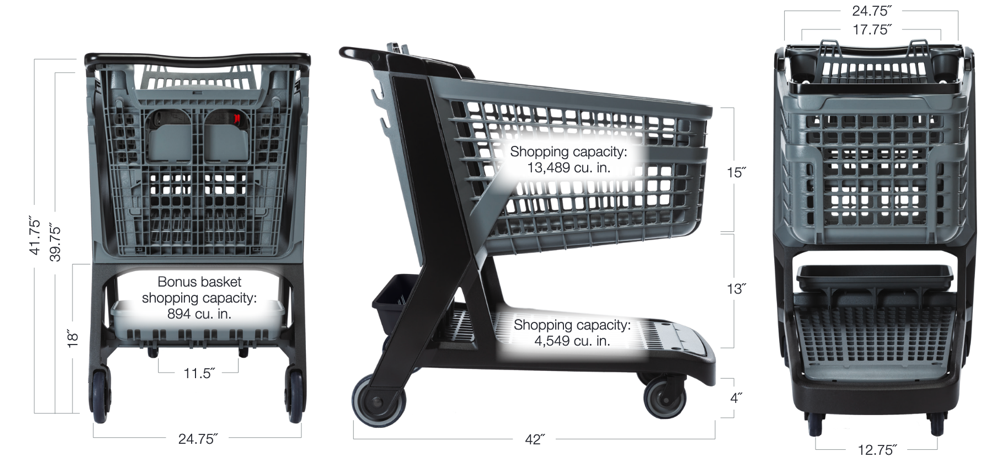 Standard Features
3-year limited warranty
11,175 cu. in. basket
18,038 cu. in. shopping capacity
12 ̋ nest
Solid rubber Super Wheels
Rear wheel lift protects against flat-spotting
Beverage holder
Flower holder
Bag hooks
Mobile device/coupon holder
Lower tray
Ergonomically designed handle
Systec retractable seatbelt
Available Options
Custom side panel graphics
3-Gallon rear bonus basket
TPU wheels
SafeStrap seatbelt
Anti-tilt bracket
Compatible with security wheels like Gatekeeper, Carttronic and Rocateq
Vertical transport system model available

The Convenience Size Cart is designed for the customer's maximum capacity usage for the top and bottom basket. A unique bottom tray allows for additonal capacity. The Convenience cart has a smaller footprint yet gives you more capacity than any cart available.
Customers will also love included features like cup holders, bag hooks, device holder, and more.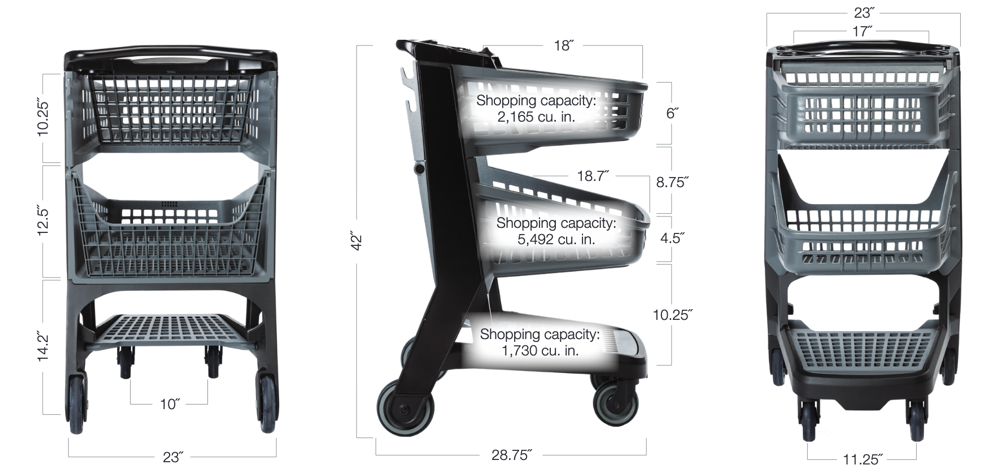 Standard Features
Lower basket accessible from driving position
3-year limited warranty
Total shopping capacity including lower tray 9,387+ cu. in.
7 inch nest
Solid rubber Super Wheels
Rear wheel lift protects against flat-spotting
Beverage holder
Flower holder
Bag hooks
Mobile device/coupon holder
Lower tray
Ergonomically designed handle
Available Options
Custom side panel graphics
TPU wheels
Anti-tilt bracket
Compatible with security wheels like Gatekeeper, Carttronic and Rocateq
Vertical transport system model available