Why cart management?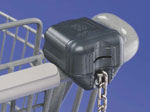 Abandoned carts affect us every day and everywhere. Reducing the number of abandoned carts will save your store money, and in turn save your customers money.
SmartLoc can save you up to:
50% on labor cost
30% on car repair
25% on cart replacement
Read more about the features and benefits of SmartLoc Cart Management system.
Review related products
liveTec Easy Video
SmartLoc Video
SmartSafe Video
SmartStop Vidoe