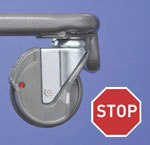 With SmartStop, you make sure your shopping carts stay where they belong: at your parking lot. SmartStop is a mechanical containment system for shopping carts.
Simple and reliable: one SmartStop castor per shopping cart is sufficient. When the cart is pushed over the perimeter of the parking lot, the castor locks in at an angle of 45 degrees. The system is triggered by a magnet embedded in the ground.
By pushing the cart over the magnet again, the system is released and the castor will turn freely again. This function is ideal for shopping carts
in which coin deposit locks have been installed. Customers can recover their deposit by moving the cart back over the magnet.
Features and Benefits of SmartStop Mechanical Containment System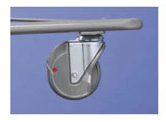 Safe
Safe locking mechanism achieved through the patented SmartStop technology.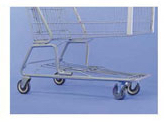 Value for money
Keep your shopping carts with a reasonable level of investment. Contains only magnet-operated mechanical parts: no transmitters, no batteries, and no power supply needed. The magnetic rail needs only to be embedded at entrances and exits.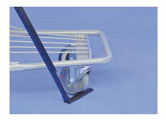 Easy to unlock
The locking mechanism can be easily unlocked by pushing the cart back over the SmartStick, a special Systec tool.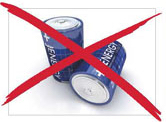 Low maintenance costs
SmartStop is virtually maintenance-free and does not require batteries.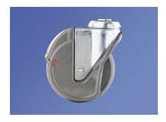 Less wear
The castor can still rotate while the SmartStop system is in the locked position.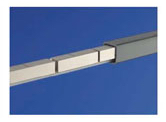 Easy to install
The magnetic rail needs only to be embedded at entrances and exits.
SmartStop In Action