Cart corrals by R.W. Rogers Company.
Please call us at (630) 377-9033 for pricing, availability, and lead time.
Design, Construction, and Manufacturing
Expected 30-year product lifespan - fewer corral replacements & long-term savings.
Anodized aluminum finish will not chip, rust, or flake.
Adjustable legs allow corral leveling at each column, creating a uniform parking lot appearance.
Reinforced back wall safeguards corral structure from shopping cart impacts.
HDPE bumpers protect the corral finish from damage.
Replacement parts for corrals stocked and available.
Designed and manufactured in Canton, Michigan.
Ambassador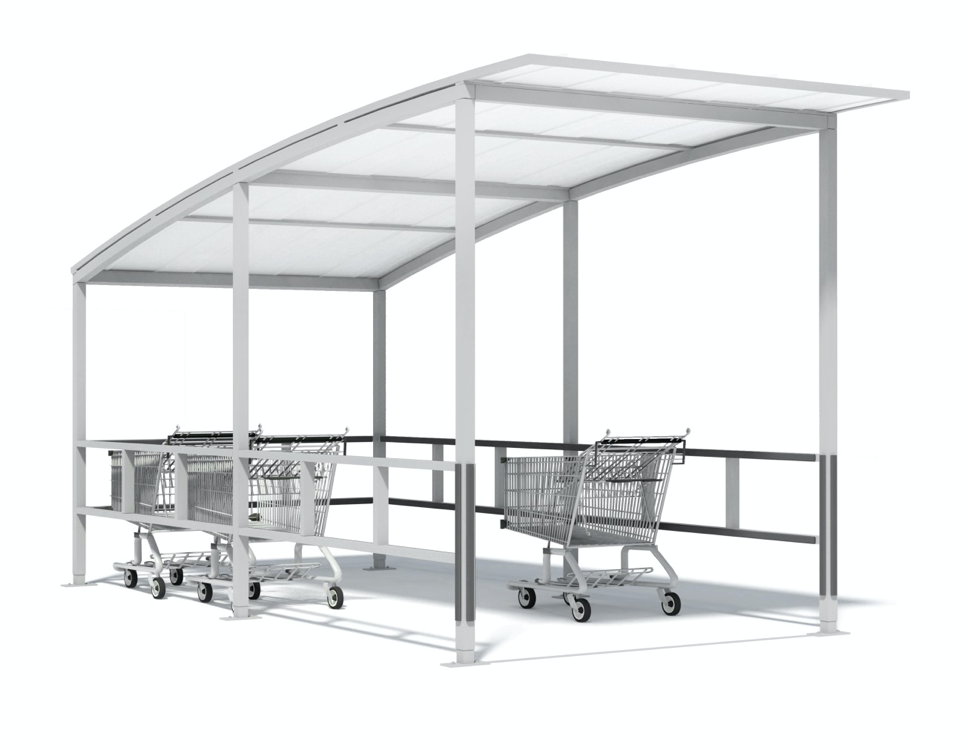 Arched, Front-to-Back, Single Slope Style Roof
Arcadia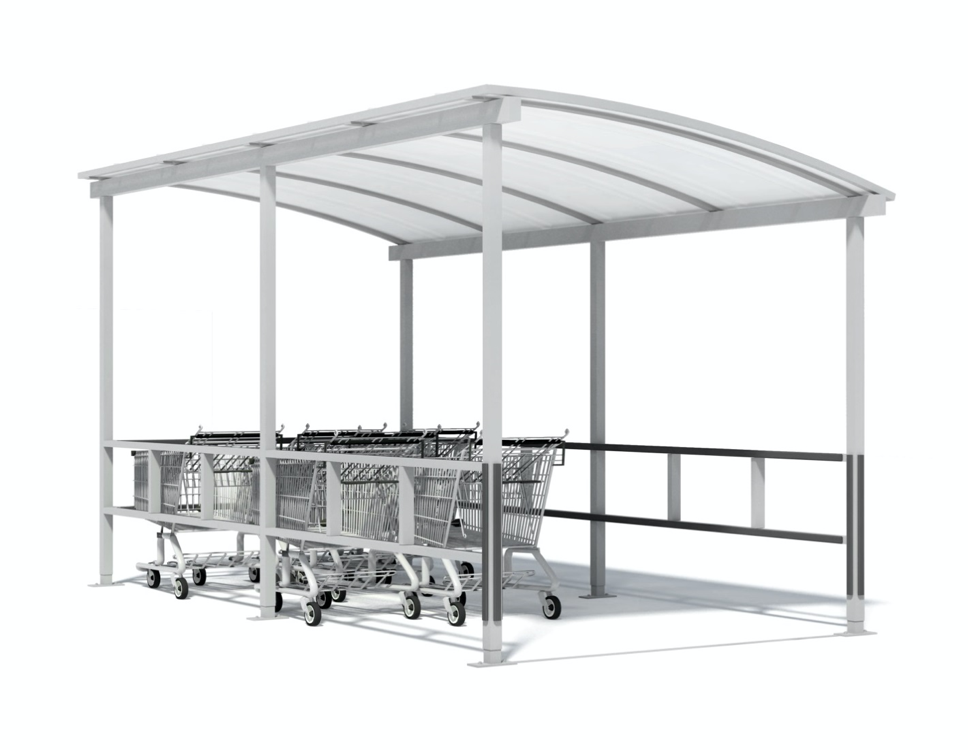 Arched, Side-to-Side, Single Slope Style Roof
Edison
Uncovered with Double-Sided Sign, Front or Rear of Unit
Fairlane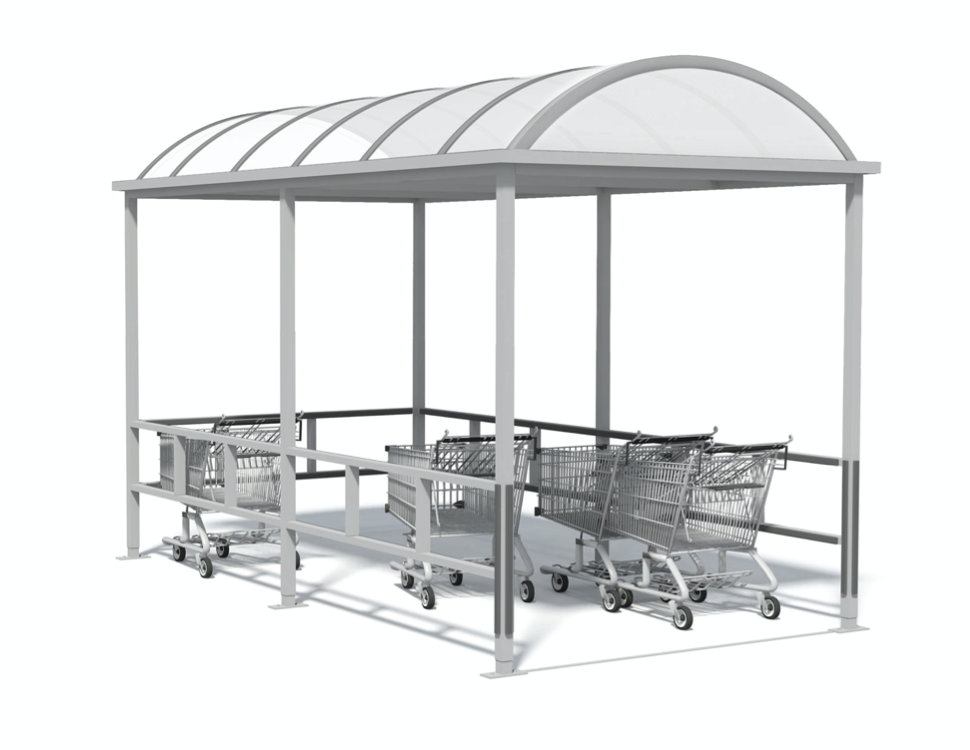 Barrel Vault Style Roof with Integral Gutter and 2 ½" fascia
Fillmore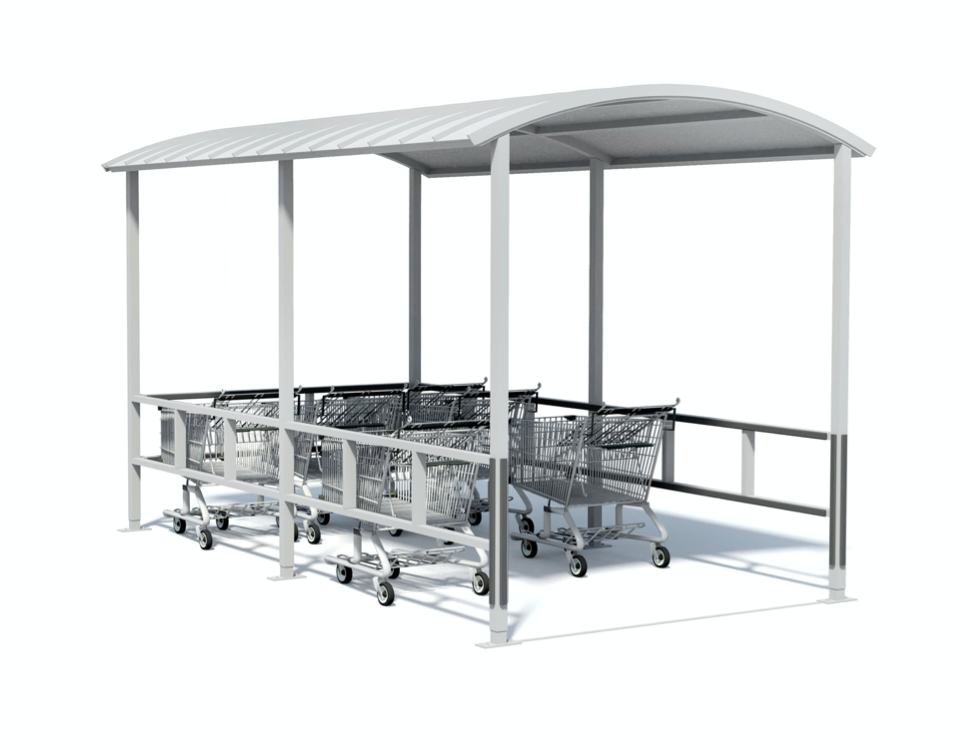 Low-Profile Barrel Vault Style Roof
Hudson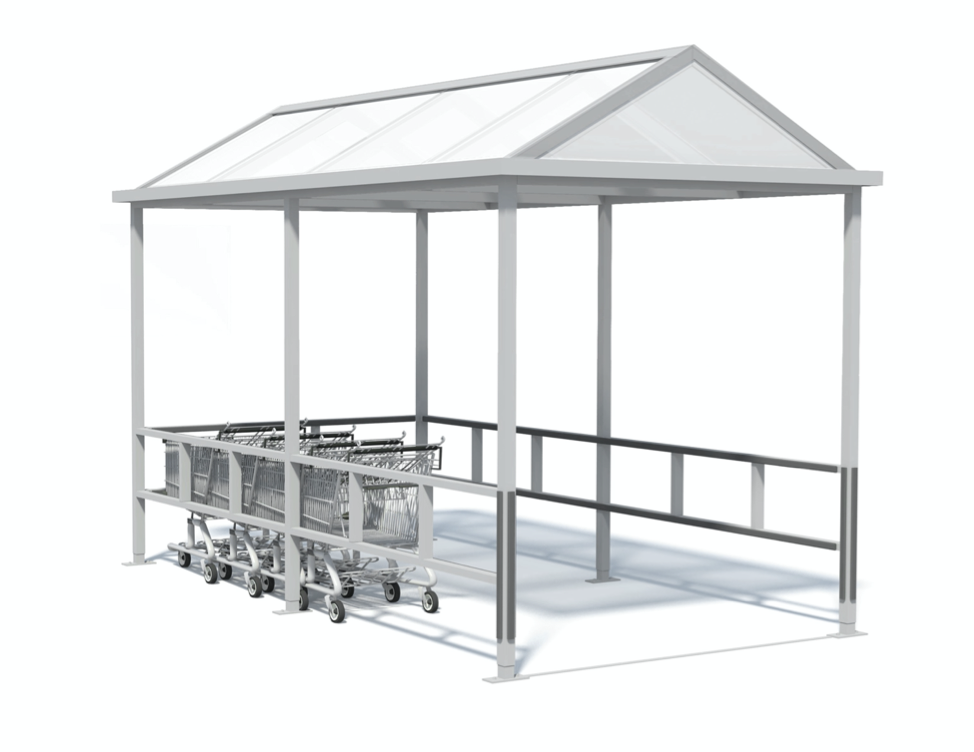 Gable Style Roof with Integral Gutter and 2 ½" fascia
Jefferson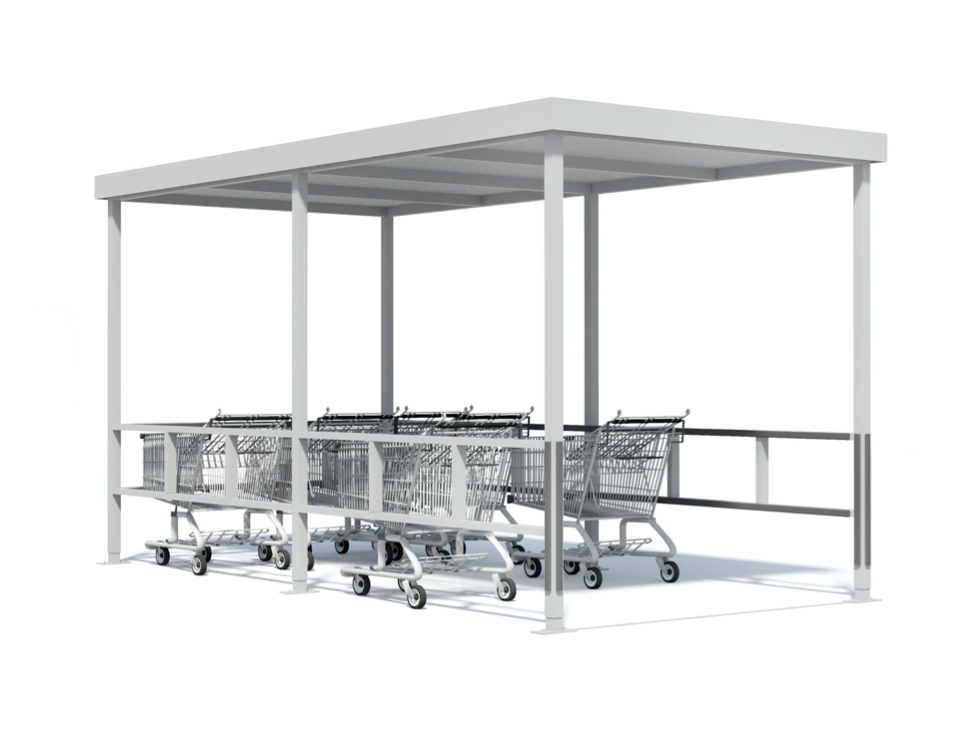 Flat Style Metal Roof with Integral Gutter and 2 ½" Fascia
Lafayette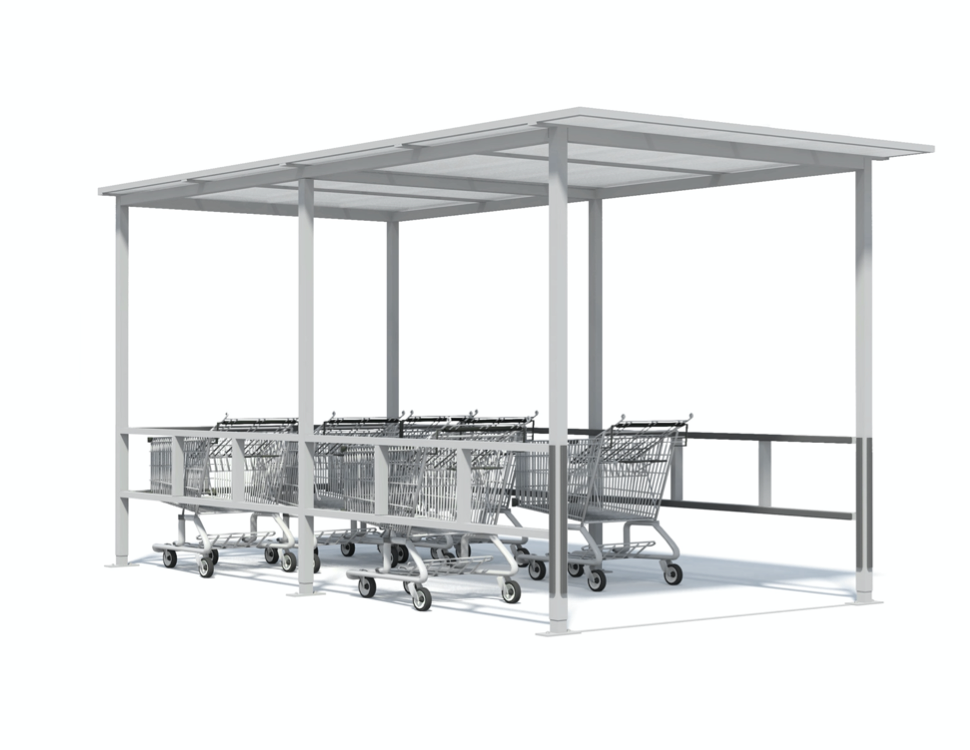 Flat Style Roof with Overhang
Olympia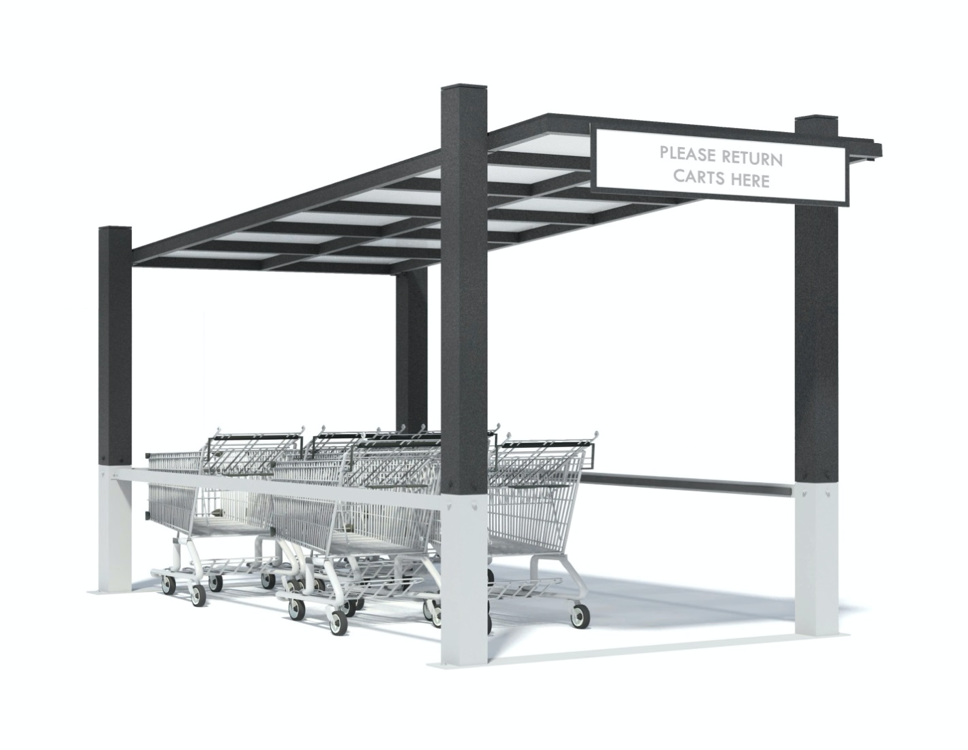 Flat Single Slope Style Roof
Whitney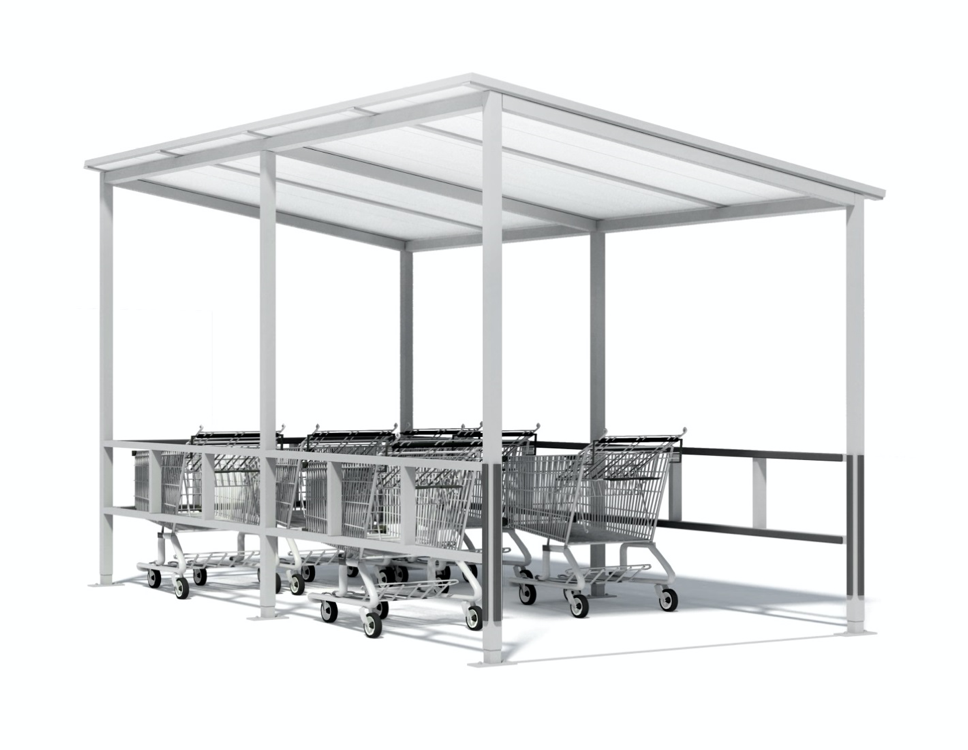 Flat, Side-to-Side Single Slope Style Roof
Windsor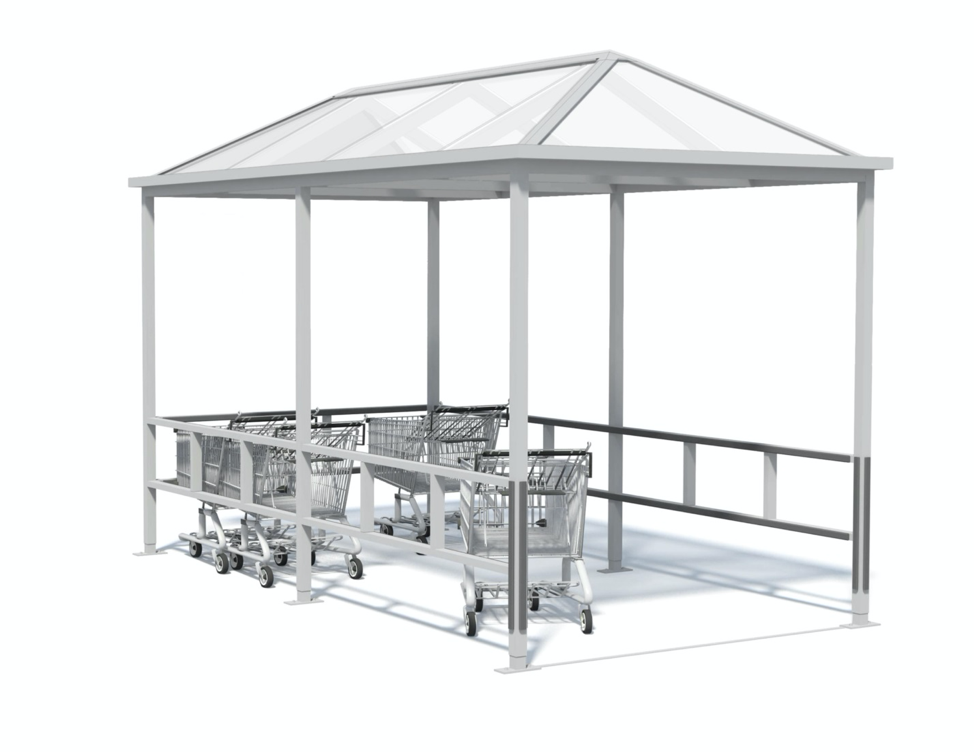 Hip Style Roof with Integral Gutter and 2 ½" Fascia
Woodward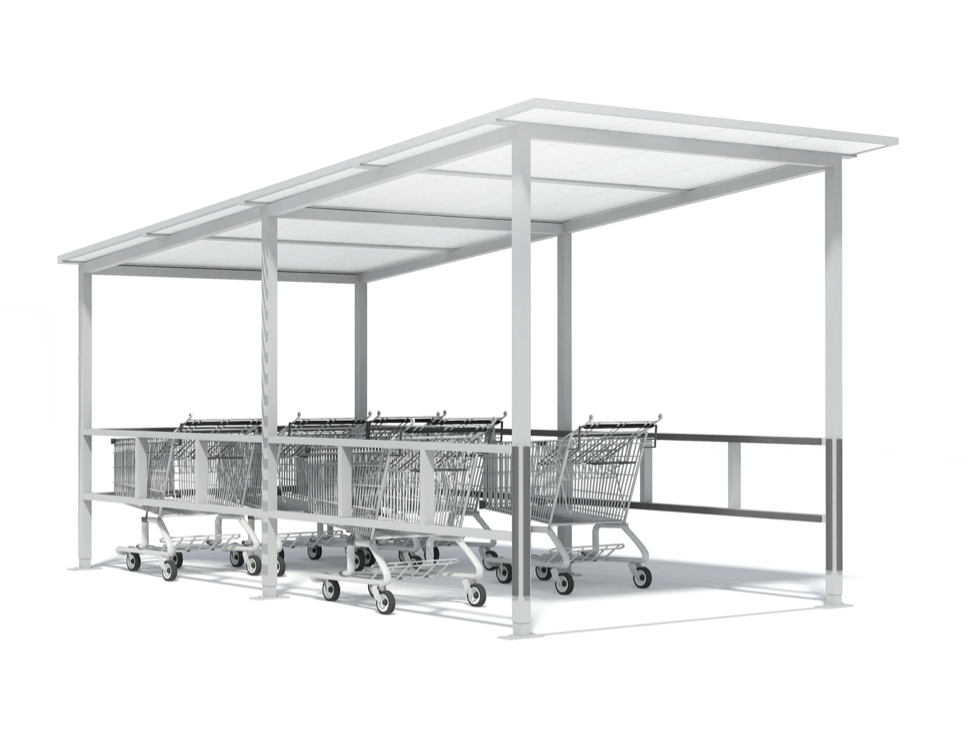 Arched, Front-to-Back Single Slope Roof
Base Models Include:
7'6" x 14' Corral Stores up to Three Rows of 25" Shopping Carts
Dark Bronze or Clear Anodized Aluminum Framing
Integral Gutter with 2½" Fascia (Color to Match Corral Framing)
Two-Rail Fence Style Wall
2½" Vertical Tube and 2½" X 1½" Horizontal Tube
HDPE Black Bumper on Interior Horizontal and Exterior Front Posts
Cart Roll Out Bar and Rear Angle Stop Bar
Pre-fabricated Roof and Wall Sections with Internal Framing Connections
Cart Corral Leveling System
30-Year Projected Life Span
Cart Corral Options
Anchoring
Asphalt anchors, concrete anchors, and concrete ballasts
Framing
3" x 3", 4" x 4", 4" x 6" square aluminum or round tube
Finishes
Black or champagne anodized, paint (powder coat, Kynar, woodgrain, custom) - optional
Roof Glazing
Translucent multi-wall polycarbonate – blue and green (if available)
Standing seam metal – standard, custom (if available)
White flat pan aluminum (Jefferson model only)
Signage
Horizontal or vertical, one or two sided, customized to owner specifications
All Weather Wall Panels
Tempered safety glass
Clear monolithic polycarbonate sheet
Translucent multi-wall polycarbonate
Grillwork
Diamond, square, fence style, water-jet cutouts, custom designs
Lighting
Standard electrical packages with lights
Solar panels with lights
Trash Receptacles
Column-mounted perforated aluminum, 10 & 20 gallon
Additional sizes & materials upon request
Installation
Installation teams available nationwide
Stamped Drawings and Calculations
Engineered stamped drawings available in all 50 states and Canada
Service
Dedicated project manager for every customer
Professional, experienced, Duo-Gard teams available for efficient, turnkey installations.
Engineer-stamped drawings detailing wind, seismic, and snow considerations are available upon request.