Value Shopper
500 lb (227 kg) rider capacity
150 lb (68 kg) basket capacity
Front drive maintenance-free
24-volt battery system
Extended run time to last all day
Automatic parking brake
Heavy duty AC cord
Smart diagnostics provide quick troubleshooting
Durable commercial grade seat
Solid steel platform
Hall effect throttle doubles lifespan over potentiometer
Lightweight lithium-ion battery option
No assembly required
The ValueShopper is our most popular motorized shopping cart for grocery use. Designed for ease of service, the ValueShopper provides consistent performance and reliability, reducing repair costs and down time.

Download Spec Sheet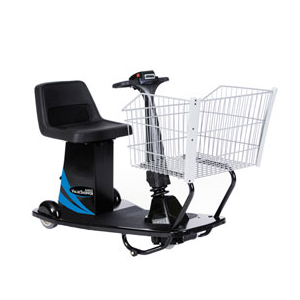 Value Shopper XL
Increased basket capacity
The XL version of the ValueShopper has all the features of the ValueShopper, but provides an increased basket capacity of 250 lbs (113 kg) to accommodate large stores or stores that have large inventory.
500 lb (227 kg) rider capacity
250 lb (113 kg) basket capacity
Front drive maintenance-free
24-volt battery system
More than 23 hours continuous run time to last all day
Automatic parking brake
Heavy duty AC cord
Smart diagnostics provide quick troubleshooting
Durable commercial grade seat
Solid steel platform
Hall effect throttle doubles lifespan over potentiometer
Lightweight lithium-ion battery option
No assembly required

Download Spec Sheet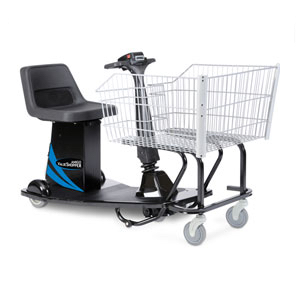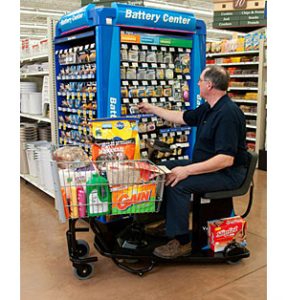 Smart Shopper
First Class Shopping
500 lb (227 kg) rider capacity
Basket options available in standard, trimline and midsize; offering up to 150 (68 kg) basket capacity
24-volt rear drive increases power
More than 20 hours continuous run time
Smart diagnostics provide quick troubleshooting
Durable commercial grade seat
Solid steel platform
1.7-2.3 mph (2.7-3.7 kph) programmable speed control
34″ (86 cm) turning radius easily maneuvers tight aisles
Unique, impact resistant cover
Designed for ease of service
The rear drive SmartShopper provides increased power on ramps and inclines, and also provides longer continuous run time. This easy to operate, one-size-fits-all unit will provide a first class shopping experience for your guests.

Download Spec Sheet
SmartTrack System
Reduce Motorized Cart Theft Risk!
Using GPS technology, the SmartTrack allows you to determine a customized boundary for your store's unique needs. When a cart nears a boundary, it will beep to warn the customer. If they keep driving, the cart will roll to a stop. Carts will then drive only in reverse until back within the approved boundary.
No locking wheels
No wires, transmitters or buried lines
Labels and signage alert customers
GPS programmed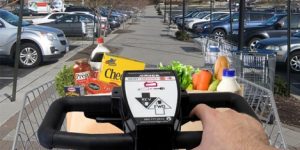 Wheel Chair with Front Basket
Low cost manual option
Available sizes: 20″, 22″, 24″
Easy to clean, black vinyl upholstery
20″ seat has a 250 lb (113.3 kg) rider weight capacity
22″ and 24″ seats have a 350 lb (158.7 kg) rider weight capacity
Carbon-steel frame is long lasting, durable and low maintenance
Heavy duty inner liners keep seat and back from stretching
Flame-retardant upholstery resist mildew, bacteria and cracking
Removable swing-away footrests add comfort and safe footing while in motion and allows for safe transfer
Not every store requires an electric shopping cart. It is good customer service; however, to provide "basic" mobility for people needing assistance. Both front and rear basket options now available.

Download Spec Sheet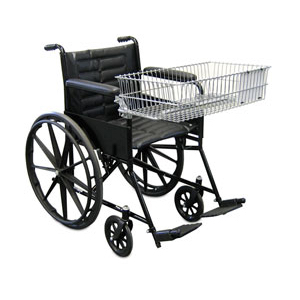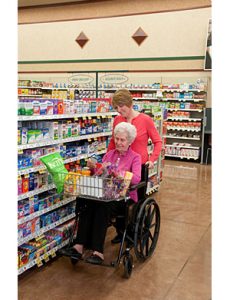 Smart Chair XT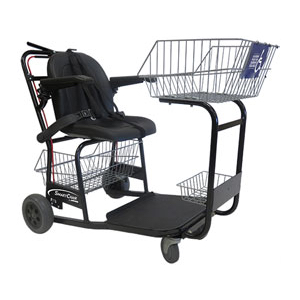 Five-point harness with retractable seat belt
Harness can be stored behind seat
Tilted padded seat provides maximum comfort and support for muscle weakness
3 baskets offer flexible option to store soft produce/groceries
Sturdy 450 lb (204 kg) weight capacity
Automatic locking brake on handle
Flip-back arms for easy transfer
Generous leg room for people of varying heights
Retailers face the challenge of trying to meet every guest's needs for equipment to make shopping easier. We recognize that you have limited space to store this equipment, which is a reason to consider the Amigo SmartChair XT.
This chair's unique features can accommodate a variety of needs, including small children with disabilities and senior citizens. With the SmartChair XT, one chair serves the diverse needs of customers, saving you front-end space.

Download Spec Sheet